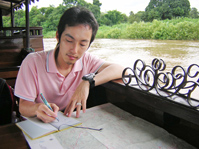 After graduation of the geography department, I went on to master's course of landscape ecology as more applied science. Along with making a study on Asian low-lying mosaic landscapes, my interests have been expanding into material flow and energy issues. I believe that worldwide trends of multidisciplinary approaches can reinforce individual academic specialties of young researchers.
Curriculum Vitae
View the detailed profile and careers of Yuji Hara.
Members
Our Laboratory collaborates with some reserchers and students.
Access Map
We are located at Wakayama University Faculty of Systems Engineering.